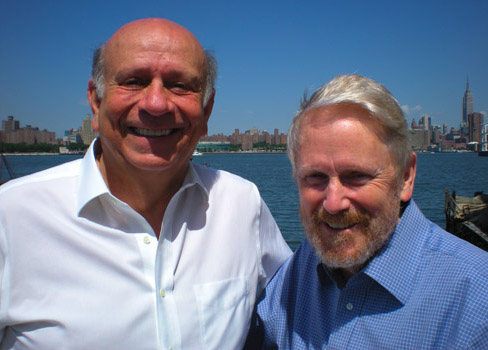 NORM BRODSKY had already launched seven successful businesses—including a three-time Inc. 500 company—by the time he began writing the Street Smarts column in Inc. magazine with Bo Burlingham in 1995. The column has proved to be enormously popular with readers of the magazine and was twice a finalist for a National Magazine Award. In 2008, it received a gold Azbee award from the American Society of Business Publication Editors.

With the success of the column have come a flood of speaking invitations. Brodsky now lectures widely and has become a frequent guest on MSNBC.

A graduate of Rider College and Brooklyn Law School, Brodsky began his professional career as a lawyer, but the slow pace of the courtroom led him to search for another vocation.

In 1979, he started Perfect Courier, a messenger service based in Manhattan. Within a few years, it was a thriving enterprise with offices around the country, appearing on Inc.'s annual listing of the 500 fastest-growing private companies in America for three consecutive years.

But as fax machines began appearing in more and more businesses, Brodsky realized that his company's prospects were limited, and he began looking for other opportunities. A request from a customer looking to store some boxes prompted him to call several records-storage facilities in the area. Their responses convinced him that the industry offered great promise.

He proceeded to launch CitiStorage out of a rented warehouse in Long Island City, N.Y., later moving it to the Brooklyn waterfront where he began building warehouses of his own. Today those warehouses contain more than 3.5 million boxes.

In 1999, Brodsky launched a secure document destruction business, U.S. Document Security, as an adjunct to CitiStorage. In December 2007, he sold both those companies, plus the delivery business, to Allied Capital for a reported $110 million. The combined entity is still run by the management team that Brodsky and his wife, Elaine, developed over the years, while he and his erstwhile partner Sam Kaplan work on acquisitions.

When he is not doing acquisitions, starting businesses, mentoring other entrepreneurs, developing real estate, traveling, or working on his column, Brodsky enjoys skiing black diamonds with Elaine at their home in Telluride, CO—a sport he took up at the age of 57. The rest of the year, he and Elaine live in Brooklyn, NY; Long Beach, NY; and Aventura, FL. They have been married for more than 39 years and have two daughters.

BO BURLINGHAM is an editor-at-large of Inc. magazine and the author of Small Giants: Companies That Choose To Be Great Instead of Big (Portfolio, 2006), which was one of five finalists for the 2006 Financial Times/Goldman Sachs Business Book of the Year award. He joined Inc. in January 1983 as a senior editor and became executive editor six months later.

In 1990, he resigned so that he could do more writing and became editor-at-large. Subsequently he wrote two books with Jack Stack, the co-founder and CEO of Springfield Remanufacturing Corp. and the pioneer of open-book management. One of the books, The Great Game of Business (Doubleday/Currency, 1992), has sold more than 300,000 copies. The other, A Stake in the Outcome (Doubleday/Currency, 2002), has been called "the first management classic of the new millennium."

Burlingham co-authors with Norm Brodsky the popular monthly column in Inc. called Street Smarts, which was the winner of a gold Azbee award from the American Society of Business Publication Editors in 2008, and a finalist for a National Magazine Award in 2006 and 2008.

As Inc.'s Executive Editor in the 1980s, Burlingham was involved in much of the magazine's early coverage of innovative companies that have since emerged as leaders of the so-called New Economy.

A former Fulbright Scholar and a Woodrow Wilson Fellow, Burlingham graduated from Princeton University in 1967 with a B.A. in public and international affairs. He subsequently served as managing editor of Ramparts magazine, contributing editor of New Times magazine, and a member of the editorial board of Working Papers, and wrote for numerous publications, including Harper's, Esquire, Mother Jones, The Boston Globe, and Boston magazine.

In the early 1980s, he joined Fidelity Investments, the mutual fund company, where he worked with fund managers and top executives, including Peter Lynch. Burlingham was a founding member, with Tom Peters, of PAC/World, an international organization of business leaders and observers. He served on the board of The Body Shop Inc., the U.S. subsidiary of the international skin and hair care company, from 1992 to 1997.

He and his wife, Lisa, have been married for 38 years and live in Oakland, Calif., and Sancerre, France. They have two children and two grandchildren.